Grilled Cheese, Tomato Soup, and Side Salad!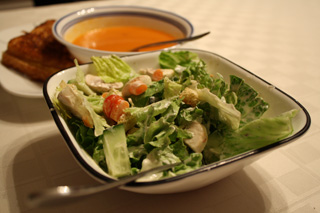 Sometimes the best meal is a simple homemade meal. My husband and I love grilled cheese sandwiches of all kinds. From gourmet to "slime cheese," we just can't get enough! So when my husband asked me to make him a pile of grilled cheese sandwiches, I decided maybe it was time to make a blog post about our favorite, easy-grilled-cheese sandwich with a side of our favorite tomato bisque soup and a salad!
Ingredients for Grilled Cheese (1 sandwich):
2 slices English muffin bread
2 slices American cheese, fat free (or 2%)
1 tbsp butter with canola oil (or margarine)

Directions for Grilled Cheese:
Butter one side of each piece of English muffin bread. Place one slice of the bread buttered side down on a griddle or frying pan. Add the two slices of cheese and top with the other slice of bread, buttered side up.

Cook over medium-high heat until both sides are golden brown and the cheese is melted.

Ingredients for Side Salad:
1 cup romaine lettuce
1 tbsp ranch dressing
1 serving small-cut croutons
2 mushrooms, cleaned and sliced
diced tomatoes, carrots, and cucumber

Directions for Side Salad:
Assemble all ingredients and a bowl and toss until dressing evenly covers the salad.
Enjoy your warm grilled cheese sandwich with a hot bowl of Campbell's Tomato Bisque soup and a deliciously healthy side salad. It truly doesn't get any better than this!
Schema Image: