A little home-cooked, Southern fried chicken with mashed potatoes and white gravy...Mmm mmm good!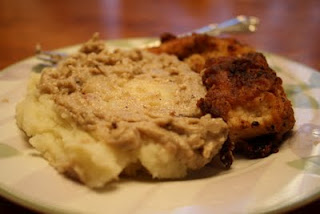 Obviously, I am not from the South. However, I was taught by true Southerners the perfect recipe for making crispy, fried chicken with a white gravy. The mashed potatoes are very much part of my Northern heritage, and I will share my favorite way to make them!

For starters, this will taste nothing like KFC or other restaurant takes on "fried chicken." I'm not exactly sure what they do to get their crispy, golden brown fried chicken but mine is much truer to a home-cooked meal. That being said, I will do my best to explain this recipe. While it is not terribly complicated, it is definitely one of those meals I've made so many times that it comes without a set recipe. Thus, I will sometimes use phrases like "until it looks right" or "smells good." I hope you understand what I mean!
 
Ingredients (for 4)
Fried Chicken
1.25 lbs of boneless, skinless chicken breasts
2 cups of flour (in a large plastic Zip-Loc bag or in a paper bag)
McCormick's Montreal Steak Seasoning
Garlic Pepper
Pepper
2 cups milk (or Buttermilk) for dipping chicken
4 tbps Crisco (more if needed)

Mashed Potatoes
8 medium potatoes
1 cup milk
4 tbsp margarine or butter

White Gravy
3 tbsp flour mixture* (see directions for fried chicken below)
3 cups milk

Directions
Preheat the oven to 350 degrees F. Wash the chicken and trim the fat. Cut breasts into thirds (or about1.5" by 3" pieces).
In a Ziplock bag combine flour with McCormick Montreal Steak Seasoning, pepper, and garlic pepper in until it smells good. I like mine to be spicy, so I put a lot in! When you can smell it without being overwhelmed by it, you might have enough seasoning.
Pour the milk into a bowl and dip the chicken in the milk. Then dip the chicken into the flour mixture. For extra crispy chicken, repeat this step (i.e. double-dip).
While you're dipping the chicken, put the Crisco into a large frying pan and set on medium-high heat. When the Crisco has melted, start putting the battered chicken into the pan. When the chicken is crispy and brown on both sides, put into a baking pan and place into the oven for 20-30 minutes. This method seals the juices in the chicken while still providing for a crispy and delicious exterior.

Peel the potatoes and rinse them. Then cut them into about 1" by 1" pieces. Place the cut potatoes into cold water and put on the stove on high heat. When the potatoes start boiling, reduce heat. Cook until the potatoes are tender (about 15-20 minutes). Drain the water and use a potato masher to mash the potatoes. Then pour in the milk and margarine, and mash the potatoes again until smooth.

Finally, the gravy! This is an art. You need a whisk and the pan that you cooked the chicken in for the gravy to be truly successful. Use those crunchies that got left behind from frying up the chicken to create your masterpiece gravy.
Start by adding three tablespoons of flour from the flour mixture we dipped the chicken in. "Burn" the flour on medium heat and whisk it around in the pan until it turns a brownish color (not black). Once the flour is properly burned, add the first 1.5 cups of milk. Stir slowly, but constantly until it thickens. Keep adding a half cup of milk and thickening the gravy until you've used all the milk.
The gravy should finish at about the same time as the chicken and be thick enough that it wouldn't go through a strainer very well. Remember: Southern gravy is not watery at all!

Once everything is cooked, you're ready to serve! I suggest pairing the chicken, gravy, and mashed potatoes with any of the following: corn on the cob, caesar salad, fruit, and/or biscuits. This meal will leave you stuffed but happy!
Schema Image: