Pudding Pops - Super Simple Recipe!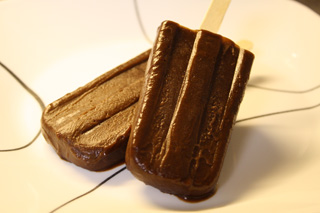 I remember growing up on those hot summer days and getting to have popsicles. But nothing was quite as amazing as those chocolate popsicles called Puddin' Pops!
I didn't realize until fairly recently just how incredibly easy pudding pops are to make! Turns out it is literally frozen chocolate pudding. Yum!!!
So, I bought myself a popsicle mold (but you can also just use an ice cube tray) and got to work!
 

Ingredients:
1 box chocolate pudding mix
2 cups milk (skim)

Directions:
Whisk 2 cups of milk with 1 box of chocolate pudding mix for two minutes. Then spoon the pudding into the popsicle mold (or ice cube tray). Place the sticks into the pudding.

Freeze until solid, about 3-5 hours in popsicle mold. Run warm water over the outside of the popsicle mold tray to loosen the pudding pops. Then pull them out and enjoy!

The best part is you can keep the extras in the freezer until you are ready to eat them! Enjoy your taste of frozen chocolate heaven!
Schema Image: