Raspberry Chocolate Cake with Chocolate Ganache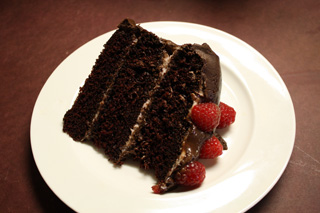 Congratulations to Laura P. for winning Casa de Lindquist's first ever recipe contest with a recipe for a Chocolate Raspberry Cake with Ganache frosting! While it was a bit labor-intensive, this chocolate raspberry cake is incredibly beautiful and delicious. 
I couldn't help but make a few changes to the submitted recipe so here's the modified version!  Hope you enjoy!
 

 

 

 

 

Ingredients for Cake:
Nonstick vegetable oil spray
2 cups unbleached all purpose flour
1 3/4 cups sugar
3/4 cup unsweetened cocoa powder
2 teaspoons baking soda
1/4 teaspoon salt
1 cup water
3/4 cup buttermilk
3/4 cup vegetable oil
3 large eggs

Ingredients for the raspberry cream filling:
1/2 cup (1 stick) unsalted butter, softened to room temperature
1/4 plus 2 tbsp cup seedless raspberry jam
3/4 cups powdered sugar
4 oz cream cheese, 1/3 less fat

Ingredients for ganache:
18 ounces bittersweet chocolate (60% cacao or so), chopped
2 1/4 cups heavy whipping cream
6 ounces fresh raspberries
1 tbsp Powdered sugar

Directions for 3-layer Cake:
Preheat oven to 350F. Prepare prepare three 9" round pans with butter flavored spray.
Mix flour, sugar, cocoa powder, baking soda, and salt in a large bowl with a whisk until well combined. Then mix the water, buttermilk, vegetable oil, and eggs in a medium size bowl with the whisk.
Make a well in the dry ingredients. Gently pour the buttermilk mixture into the well and whisk together until there are no lumps.
Split evenly between the three pans (about 2 cups each) and bake for 20 minutes. Cakes are done when you can insert a toothpick in the middle and it comes out clean.

Directions for the Raspberry Cream Filling:
Soften one stick of butter. Then beat with a mixer (preferably a stand mixer with a paddle attachment) on medium speed until smooth; about 3-5 minutes. Add the seedless raspberry jam and mix until well combined.
Reduce speed to low and add the powdered sugar ¼ cup at a time until mixture is smooth. Then add the cream cheese and blend on medium until all ingredients are smooth.
Refrigerate until ready to use.

Directions for Ganache:
Chop the chocolate and place in a medium bowl.
Put heavy whipping cream into a saucepan and bring to just a boil. Pour cream over chocolate and let sit for one minute. Then stir until chocolate melts and ganache becomes smooth.
Transfer 1 1/4 cups ganache to small bowl. Cover and refrigerate until ganache is thick enough to spread, stirring occasionally, about 1 hour.
Let remaining ganache stand at room temperature to cool until barely lukewarm.

Applying Filling and Ganache to the Cake:
  Carefully run knife around pan edges to release cakes. Invert one cake layer onto cake tray. Spread about 1/3 cup raspberry cream filling onto first layer using a pastry knife (or butter knife). Then spoon dollops of chilled ganache over the cake and spread evenly; reserve about half of the ganache for the next layer.
  Carefully invert second cake layer onto frosted cake layer by tipping the pan on its side with one hand while holding the cake with the other. Slowly allow the cake to fall out of the pan, making sure no parts of the bottom are sticking to the pan.
  Gently place the cake on top of the first layer and spread about 1/3 cup raspberry cream filling on the second cake layer. Spoon remaining chilled ganache on top and spread evenly with a pastry knife.  Repeat steps one and two with the third layer (invert onto second layer; spread raspberry filling).Then pour half of lukewarm ganache over the top of the cake, spreading over sides to cover. Freeze until ganache sets, about 30 minutes.
  Pour the remaining ganache over cake, allowing it to drip down sides. Spread ganache evenly on the sides to create smooth edges. Freeze to set ganache, about 30 minutes. Arrange fresh raspberries on top of the cake. Sift powdered sugar lightly over raspberries before serving.

This decadant cake is truly incredible and well worth the effort put into it!  Best of luck to you.
Original recipe by Cindy Mushet on epicurious.
Schema Image: