Roast Beef, Mashed Potatoes, and Gravy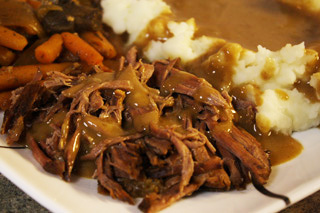 Easily one of our favorite meals involves some kind of meat, mashed potatoes, and gravy. We are, afterall, Minnesotan. ;)
Thus, the crockpot roast beef is rather convenient and delicious.  Simply through 3+ pounds of meat in a crockpot, let it cook for 8-10 hours on low, and enjoy the deliciousness that comes of it.  Here is a simple, yet tasty meal that you can prep with little effort.
Ingredients for Roast Beef and Mashed Potatoes:
1 (3-5 lb.) boneless beef rump or tip roast, trimmed of fat
2-3 garlic cloves, minced
1 package Lipton onion mix
1 bag baby carrots
1 onion, sliced
8 oz mushrooms, sliced
1 cup beef broth (or 1 beef cube with 1 cup hot water)
5-8 pounds of potatoes, peeled and sliced
1/2 stick of margarine or butter
1/4 - 1/2 cup milk, reduced fat

Directions for Roast Beef and Mashed Potatoes:
Put your rump roast into the crockpot. Then, cut your roast into three parts and pile on the garlic, onions, mushrooms, and carrots. Pour the Lipton onion mix on the beef like a rub. Then, pour the beef broth along the edges of the meat being careful not to remove the Lipton onion mix. Cover and set on Low for 8-10 hours.

After beef has cooked for at least 8 hours, peel and slice potatoes. Put in a large pot with cold water and bring to a boil. Reduce heat and cook for 8-15 minutes, or until potatoes are tender. Then add milk and butter, mashing with a potato masher until smooth.

Ingredients for Beef Gravy:
1 cup beef liquid
1/2 cup milk
1/4 flour
1 cup beef broth (or 1 beef cube with 1 cup hot water)

Directions for Beef Gravy:
After the beef has cooked for 8-10 hours, scoop about 1 cup of beef juices from the crockpot and put into a large saucepan. Bring to a boil and reduce by at least half, about 1o minutes on high heat.

Whisk the milk and flour in a measuring cup. Then slowly whisk the milk mixture into the beef liquid until gravy thickens to a paste-like consistency.

Finally, reduce heat to medium and slowly whisk in the beef broth. Keep on medium heat until gravy thickens again. Then reduce heat to low until mashed potatoes and beef are ready.

Assemble mashed potatoes, gravy, and beef on a plate with your favorite bread product and/or salad. This hearty meal is bound to keep everyone satisfied for hours! Enjoy!

 
Schema Image: