Spinach Stuffed, Bacon Wrapped Creamy Crockpot Chicken!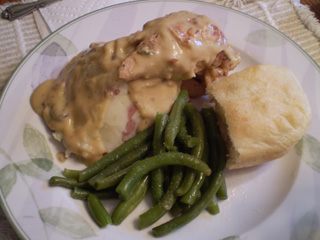 We were at a wedding recently that served this amazing stuffed chicken with mashed potatoes.  I loved it but had never made such a meal before.  How does one stuff a chicken breast, I wondered.  So I set out to find the answer. 
Turns out there are a couple of ways to do it: 1) pound the chicken flat, put the stuffing in the middle of the chicken and wrap it up OR 2) get thick chicken breasts, cut the to form a pocket, and stuff them.  I opted for method two and it worked out pretty well, although sometimes the stuffing process broke right through the chicken.  No matter, I just wrapped them all in bacon!
Hence the long title: this chicken we are about to make is both stuffed and bacon wrapped before set in a crockpot and covered with a creamy sauce.  Delicious!  Let's get to it!
 

 

 

 

 

 

 

 

Ingredients (makes 6-8 servings):
10 bacon slices
2-3 cups spinach
1/4 cup chicken broth
3 cloves garlic, minced
1 handful sundried tomatoes
1 family pack of boneless, skinless chicken breasts
2 (10 oz) cans roasted garlic cream of mushroom soup
1 cup sour cream
1/3 cup flour, all purpose
1 tsp garlic powder, to taste
1 tsp onion powder, to taste
1 tsp freshly ground pepper, to taste
1 block asiago cheese
1 block romano cheese
1 (10 oz) can cream of chicken soup

Directions:
Preheat oven to 350F. Place tinfoil on a medium cookie sheet. Then place ten slices of bacon on tinfoil and cook for 15-20 minutes or until fat renders but before bacon turns crisp. When bacon finished, set it aside allowing it to cool.
In a large saucepan, combine the chicken broth and minced garlic. Cook on high for about 2 minutes or until the chicken broth just boils. Reduce heat to medium and add the spinach. Cook until spinach wilts slightly. Then remove from heat.
Slice the sundried tomatoes into 1/4 inch strips. Set aside.
Cut at least 10 slices of each of the romano and asiago cheeses. Set aside.
Wash the chicken breasts and remove any extra fat. Note: I cut my chicken breasts in half so it would go further, but you may leave your chicken breasts whole if you prefer; it is about 2 pieces of bacon for every whole chicken breast (or 1 piece for every half chicken breast).
Find the fattest part of your chicken and cut a slice into it. Go as deep as you can with the slice, being careful not to cut through the chicken (although we will wrap it in bacon so if it does cut through, it will work out). Then stuff your chicken with a slice of romano, a slice of spinach, followed by some spinach, and sundried tomatoes. Wrap each piece of chicken with a slice of bacon and set it stuffing opening side up.
Then, in a medium bowl, whisk together the mushroom soups, sour cream, and flour. Pour over the chicken.
Cover the crockpot and cook on low for 5-8 hours, or until chicken reaches an internal temperature of 165F.

To serve, remove each piece of chicken and set on a platter. Then pour the gravy into a saucepan and turn the burner to medium-high. Add the can of cream of chicken soup and whisk the mixture together. If needed, add 1/3 cup of flour to thicken the gravy.

Serve this incredible meal with a side of mashed potatoes and your favorite vegetable! You'll be surprised how quickly this meal disappears! Enjoy!
Schema Image: