Three Cheese & Chicken Nachos!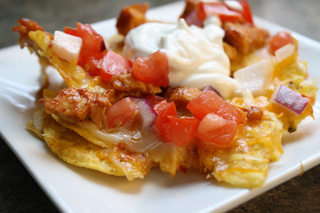 Nachos are an amazing food that can be made anytime for virtually any occassion. They allow the consumer (aka the person eating the food) to assemble their favorite food items together into a pile, top it off with guacamole and sour cream, and go to town. One of our new favorite recipes for nachos is similar to the Green Mill one for Chipotle Chicken & Three Cheese Nachos. I didn't mess around with chipotle, but the rest is all there. Crunchy chips piled high with cheese, savory chicken, and pico de gallo all lightly toasted in the oven until just melted, then served with a side of guacamole and sour cream. This snack cannot be beat. Check it out.
Ingredients:
1 cup chicken, diced
1 tbsp olive oil
1 package fajita seasoning for spicy OR 2-3 tbsp BBQ sauce for sweet
1 bag corn chips
1/2 cup pepperjack, shredded
1/2 cup cheddar, shredded
1/2 cup mozzarrella, shredded
1 cup pico de gallo
Butter spray

Directions:
Prepare the chicken by washing and dicing it. Add olive oil to a frying pan and cook chicken over medium-high heat for about 5-8 minutes, or until juices run clear. Add BBQ sauce or half of a fajita seasoning mix with 1/4 cup water depending on your preference. Heat until liquid is cooked off, about 2-3 more minutes.
Note: we have made the chicken both ways and both were incredible. It really just depends on your mood: sweet and tangy or spicy.

Spray a cookie sheet with raised edges. Then evenly spread the taco chips across the pan. Top with a handful of pepperjack, cheddar, and mozzarrella cheeses. Add the cooked chicken and the pico de gallo, trying to get some on each of the chips.

Bake in the oven at 350F for about 5 minutes or until the cheese is melted. Serve this tasty snack with homemade guacamole and sour cream.

Try these nachos with our favorite BBQ Chicken Pizza! Enjoy!
Schema Image: