Tuxedo Brownie Cups - Another innovative way to make your brownies more fun!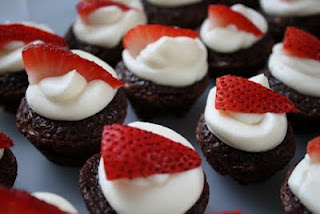 My mom is a huge Pampered Chef fan and is always trying out their recipes. When she throws little get-togethers, I am fortunate enough to be invited and have the pleasure of taste-testing these delights. One of my absolute favorite recipes is called Tuxedo Cups.

You take your favorite boxed brownie mix (mine happens to be Betty Crocker's fudge brownies) and add a delightful whipped cream / cream cheese topping that you then decorate with strawberries. It tastes chocolatey, creamy, and fruity all at once!



Ingredients
Cooking spray with flour
1 package fudge brownie mix (plus 2 eggs, 1/4 cup water, 1/4 cup oil)
1 oz white chocolate chips (or 2 squares of white baking chocolate)
2 tbsp milk
8 oz cream cheese, softened
1/4 cup powdered sugar
1 cup whipped topping (I made my own with 8 oz heavy whipping cream and 1/4 powdered sugar - there will be left whipped cream as you only use one cup of the final product)
1 pint small strawberries, sliced

Directions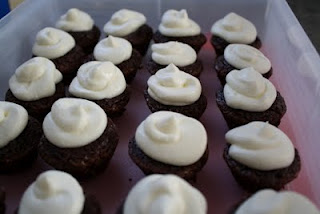 Preheat oven to 325°F. Spray cups of mini-muffin pan with nonstick cooking spray with flour. Prepare brownie mix according to package directions for cake-like brownies. Fill wells of pan two-thirds full.*

Bake 14 minutes or until edges are set. Remove pan from oven and immediately press tops of brownies to make indentations using a teaspoon or round dowel. Cool in pan for about 15 minutes. Then, remove the brownies from the pan to cool completely.

Combine white chocolate and milk in a small, microwave-safe bowl. Microwave on high for 1 minute. Stir until smooth. Meanwhile, in a large mixing bowl, combine cream cheese and sugar; mix well. Gradually stir in the white chocolate mixture until smooth. Fold in whipped topping.

Pipe cream cheese mixture into brownie cups and top with strawberries. If you don't have a cake decorating set (i.e. bag and tips), use a Zip-Loc plastic baggie and cut off a small chuck of one of the lower corners. Fill the baggie with the whipped topping and begin piping!

Refrigerate the Tuxedo Brownies for 1-3 hours before serving.

*Note: I filled my cupcake pan somewhere between 2/3 and 3/4. It made 24 cupcakes and had a bit of leftover batter that I put in a 1-cup Pyrex round glass container and cooked as a large, personal brownie circle (for my husband who likes a more traditional brownie that I do).

This dessert is perfect for a small gathering of friends or potluck! Enjoy!
Schema Image: