Blueberry Sauce - Perfect for pancakes, waffles, ice cream, and more!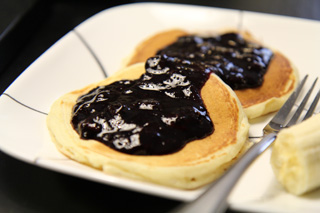 School was called off on account of an impending snowstorm and I began to crave pancakes with homemade blueberry sauce. It had been a while since last I made blueberry sauce from scratch, so I started digging for my recipe. After some frantic searching, I was ecstatic to locate the recipe! Now it's time to share it with you, my adoring fans. ;)
I decided to go with a small batch (the recipe below) as it would be only myself and husband eating. However, you can easily double this recipe and it turns out great! This recipe is super easy and incredibly delicious. Plus, you can use fresh or frozen blueberries, so it can be made all year round! Let's get started. 
Ingredients
1-1.5 cups blueberries
½ cup sugar
½ tbsp cornstarch
pinch of salt
pinch of cinnamon
1/3 cup water
½ tbsp lemon juice

Directions
Wash and drain blueberries in a colander. Remove all stems.

In a medium saucepan, combine the sugar, cornstarch, salt, cinnamon and water. Stir until mixture is smooth. Then add the blueberries.

Cook over medium heat for about 15-20 minutes, or until sauce has thickened.

Remove from heat and add lemon juice. Stir until well mixed.

Allow sauce to cool before storing in the refrigerator.

This blueberry sauce goes great with pancakes, waffles, cheesecake, ice cream and more! I hope you enjoy it as much as we do!
Schema Image: